14 Nov 2014
Finally a pic of me
Author: dobemom | Filed under:
Uncategorized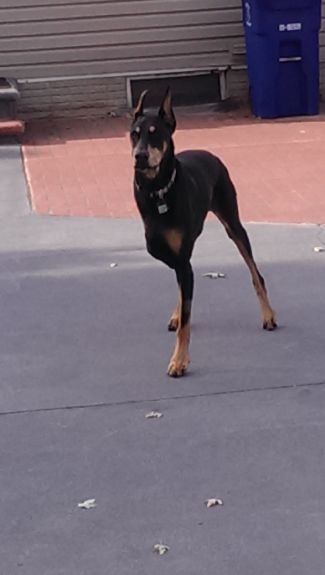 4 Responses to "Finally a pic of me"
jerry Says:
November 17th, 2014 at 4:52 am

THERE you are, handsome! It's so nice to see you. More! More!

leland4 Says:
November 14th, 2014 at 7:00 pm

Nitro…you are one handsome fella!!!

I have a soft spot for Dobies! My Leland was a 108 lb Dobie boy who was a hind leg amp. We had to let Leland go on 6/30/14. I now have Lucian who turns 6 months old 11/17/14 (also a Dobie) and he's roughly 70lbs now.

I'm glad things have been going well for Nitro and I think your prior post said he's 5 months post amp. Congrats Nitro!!

Keep going strong!

Sahana and her Angel Leland

dobemom Says:
November 14th, 2014 at 7:33 pm

I think you are brave to get another Dobie…I love the breed, but I don't think I can go through the heartbreak of having another one. Our first two only live to be 6 yrs; the first had lymphoma, and the second dropped dead of a heart attack. Nitro just turned 9, and IS doing well with this challenge. I love him to death. Good luck with Lucien.

benny55 Says:
November 14th, 2014 at 5:46 am

And that picture was well worth the wait! You are a fine looking man Mr. NITRO!!

Thanks for sharing this picture of such a proud, ztrong and very handsome pup! More! More pics!

Hugs!

Sally and Alumni Happy Hannah and Merry Myrtle too!