20 Dec 2014
Last dose of chemo is in the books!
Author: dobemom | Filed under:
Uncategorized
Nitro has finished his 6 dose course of chemo! When he got sick after his 5th dose, I wasn't sure if we should continue; but he bounced back after a couple of days, so we decided to move forward. This time his vet gave him cerenia (a suggestion from some of my tripawd chat buddies) and no sickness! His appetite is still a little off, but that's something we can live with – I know it will return soon.
Before I picked him up at the vet, the staff there took him into their waiting room by their Christmas tree to take pictures with him; then when I got there, they were fighting over who got to bring him out to me…they all love him so.
In a few weeks we're going to pursue metronomic therapy; then, I don't know, I guess we just live our lives. He's doing so well, his lab work is great.
He's always been special to me, but going through this journey with him, with his courage and dignity….I just can't put into words how much I love this dog!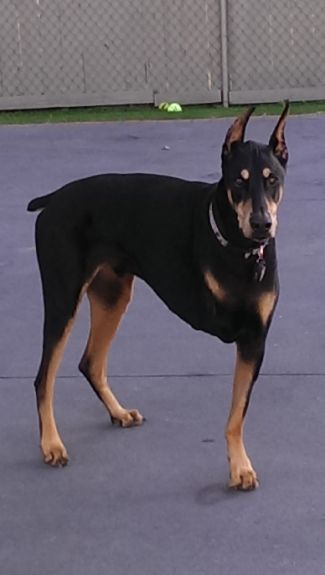 3 Responses to "Last dose of chemo is in the books!"
jerry Says:
December 21st, 2014 at 6:36 pm

Rock on handsome, you did it! We love you too. Keep on rockin, keep on living life as only you know how. You're our hero!

salembynxmommy Says:
December 21st, 2014 at 2:40 am

Congrats Nitro!!!

Michelle Says:
December 21st, 2014 at 12:45 am

Way to go Nitro. I am so glad that he finished Chemo. Way to kick butt Nitro. Metronomics is a good start. If he doesn't tolerate that you can always stop just like if he didn't on Chemo. I am so glad he is kicking butt.

Hugs
Michelle & Angel Sassy