17 Jun 2015
NITRO'S 1 YEAR AMPUVERSARY!
Author: dobemom | Filed under:
Uncategorized
Charles Dickens wrote "it was the best of times, it was the worst of times"………that pretty much sums up my feelings over this past year! For sure, it was the worst of times; I never knew I could feel such soul-shattering grief and live to tell about it. I stopped eating, my hair fell out, and I cried every day for 3 months. I went through months of second-guessing our decision; "did we do the right thing?,  did we make a mistake? will we regret this later?"  What doesn't kill you DOES makes you stronger.
I have had a dog in my life since the day I was born.  Growing up we had German Shepherds and Golden Retrievers;  I've been a "dog mom" to six canines – three sets of Doberman/Westie combos –  but I've never come across one as special as Nitro ("no, Kodi, this doesn't mean I love you less!") With him I've experienced fear,  despair,  hope,  strength,  courage,  faith, grace,  acceptance,  joy,  LOVE!
It was also the best of times…I found a new family here at Tripawds, that I feel saved my life and my sanity! You will never know (maybe you will) how much you all mean to me. I feel closer to you guys whom I've never met than I do to some of the  people in my life. 🙂 John also feels gratitude to you all for grounding me,  listening to me,  consoling me,  celebrating with me. Without you all, he would've had a whole lot more "crazy" to deal with! 🙂
Here we are one year later and  Nitro is a happy, healthy (to the best of my knowledge) boy who is lovin' life on three legs. Looking back, we did the right thing – no regrets. He's here with us, for which I give thanks every day!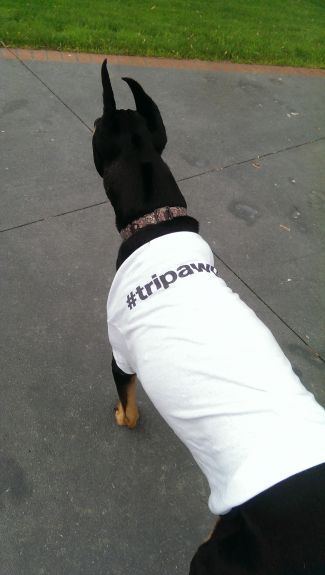 "Every once in awhile a dog enters your life and changes everything"
I LOVE YOU NITRO!
6 Responses to "NITRO'S 1 YEAR AMPUVERSARY!"