31 Oct 2015
IT'S MY BIRTHDAY!
Author: dobemom | Filed under:
Uncategorized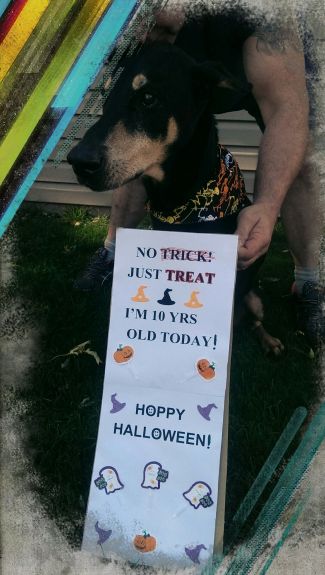 Greetings Tripawd Nation!!!
I'm 10 years old today! Mom's letting me do the post in honor of my birthday! I guess it's a pretty special day here for the 'rents, Mom's eyes are suspiciously shiny for some reason. I guess she never thought I'd be here for this day after that horrible "C" word came to visit. Sure, my life is different than it used to be, but it's still a GREAT life! I may not rollerblade with Mom like I used to, or run 5 miles a day with Dad, but boy, do I ever get the attention! I don't even miss that spare leg anymore.  Me and bro Kodi have always been spoiled, but now we REALLY get spoiled! For my special day, Dad's grilling steaks for us, and then we get to go to DQ for dessert! (Thanks, Sally, for putting those ideas in Mom's head…:)
Nopawdy knows how long we'll be here on this Earth, but for now, I'm doing great….and that makes Mom SOOOO happy! She says I'm her Cancer Warrior, and my vets call me "Rock Star"…..I am a VERY lucky guy! Thanks, Tripawd peeps, you all mean the world to my family.
Nitro
P.S. A special birthday shout-out to Spirit Jerry and Wyatt's dad!
10 Responses to "IT'S MY BIRTHDAY!"