15 Dec 2015
1 1/2 YEARS A TRIPAWD!
Author: dobemom | Filed under:
Uncategorized
So here we are, 18 months a Tripawd! I really never thought I'd see this day. Especially not that dreaded day sitting in the vet's office, listening to words like "cancer", "pathological fracture", "bone biopsy", "amputation", "6-9 months to live"…..
We've come a long way, baby! Physically, emotionally, spiritually, intellectually. For sure there's been ups and downs ("hills and valleys"  my dad likes to say); the most recent being our struggling with incontinence, most likely due to the Cytoxan Nitro was on for his metronomic therapy. I knew that was a possible side effect, knew to check his urine for red blood cells regularly – working in a hospital lab made that easy enough! So when the red cells started showing up, we stopped the drug. Little did I know the effects would grow worse, and take a LONG time to clear up. It got so he couldn't last the 8 hours we were at work, or make it through the night without wetting – I'm talking oceans of wetness. (he sleeps in our bed by the way). After my total freak-out of being sure it was bladder cancer, or kidney failure, his vet found nothing physically wrong. So with time, antibiotics (just because we could), and Chinese Herbs, and we're finally getting over it.
This journey isn't for the faint of heart, that's for sure! But I wouldn't have missed it for the world! Hope everyone's holiday season is as blessed as our is….. looking forward to a great new 'HOPPY NEW YEAR'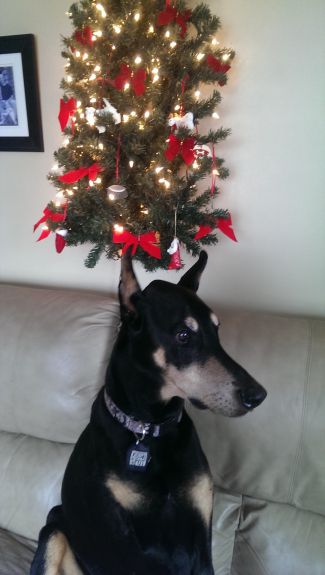 16 Responses to "1 1/2 YEARS A TRIPAWD!"