17 Jun 2016
NITRO…..2 YEARS ON 3 LEGS!
Author: dobemom | Filed under:
Uncategorized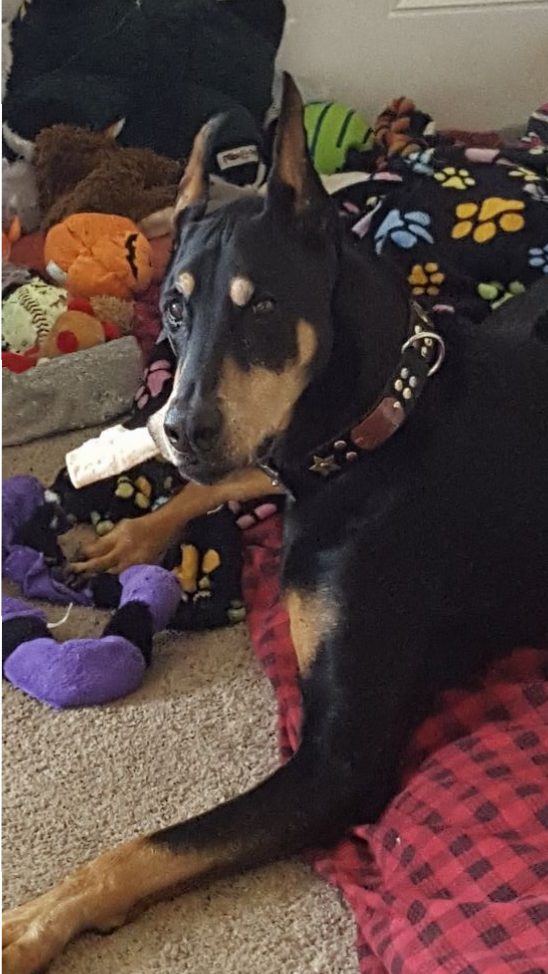 Wow! I can't believe it's been 2 years already! I don't even know where to begin to describe how I'm feeling today. So many emotions run through my head…..FEAR, that I take for granted how well he's doing; GUILT, that others are not as fortunate as us; BLESSED, to have a goofy, happy dog who is such an inspiration; GRATEFUL, to have found this wonderful community who has become my second family.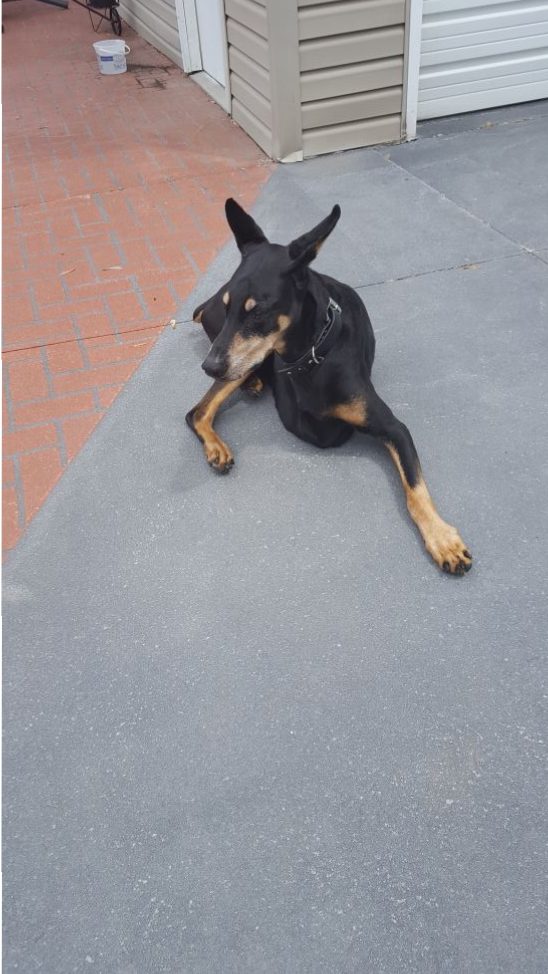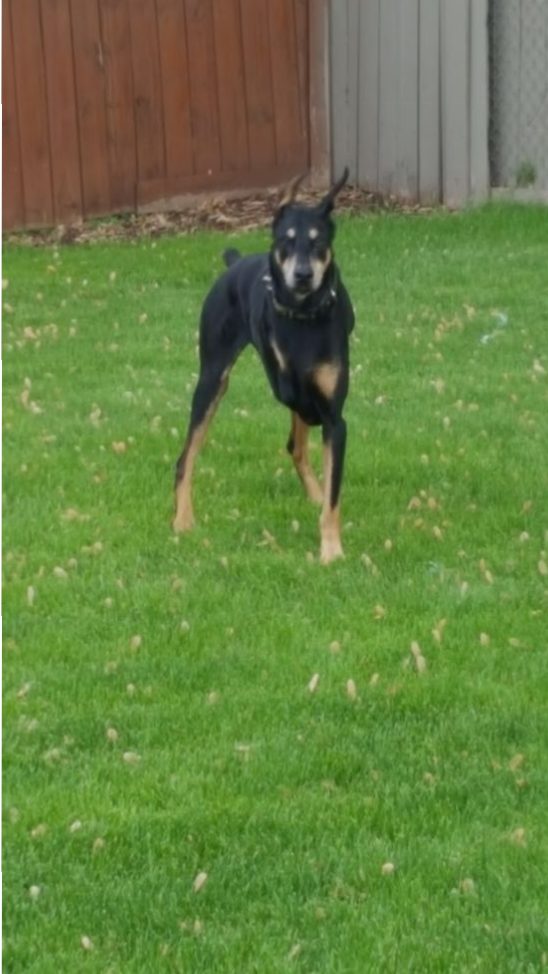 Since my last post we've seen much improvement in the incontinence issues. He had a vet appointment earlier this week to check his kidney labs; his BUN/Creatinine values are trending in the right direction, and his urine specific gravity is becoming more concentrated which means his kidney function is improving. He hasn't had to wear a diaper in almost a month, even overnight! We still have someone come let him out while we're at work, but I'm working up the courage to let him try and go 8 hours by himself. He is getting acupuncture and chiropractic adjustments every 4 weeks, and is on a kidney supplement that may account for the improvement – or maybe it's just the passage of time since the chemo meds; whatever, life has gotten less stressful (and wet) around here.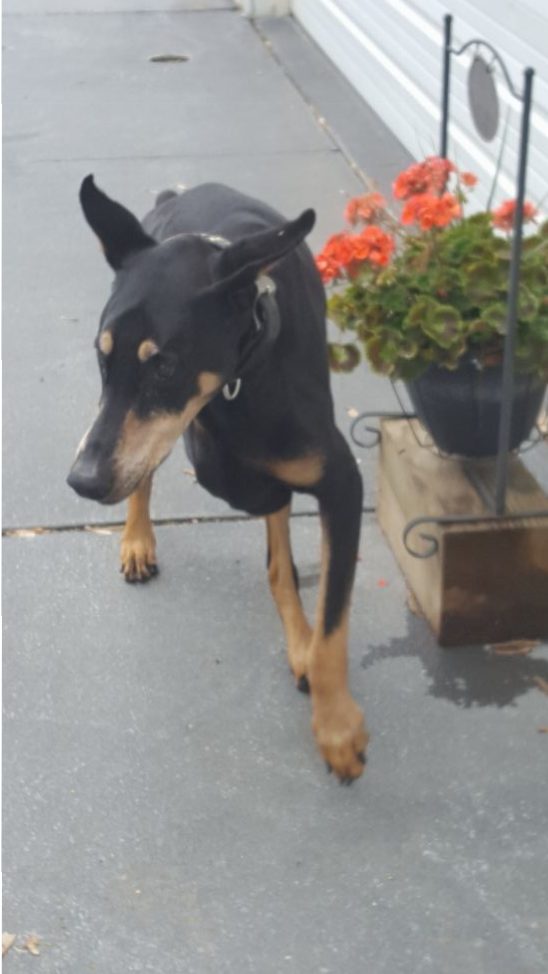 So here we are, 2 years later…. he's playful, alert, happy, and spoiled beyond belief.  Sitting in the vet's office the day that my world shattered I never thought this is where we'd be today; I never imagined we'd travel this journey, experience the lowest lows and the highest highs. I never knew how strong my love would be for this amazing animal, this fearless Warrior.  And we couldn't have done it without you, Tripawds Nation! We will be forever grateful! Thank you from the bottom of my heart!
Paula and Nitro
P.S. I'm so excited to be going to the Puppy Up walk in Wheaton, IL in September! I can't wait to meet some of the awesome people I've "met" through this site. I'd love for Nitro to meet them too, but to say he doesn't tolerate other dogs is an understatement! People, yes; other dogs, and he goes into full-blown cujo mode! (I know, hard to believe when you look at his angelic face)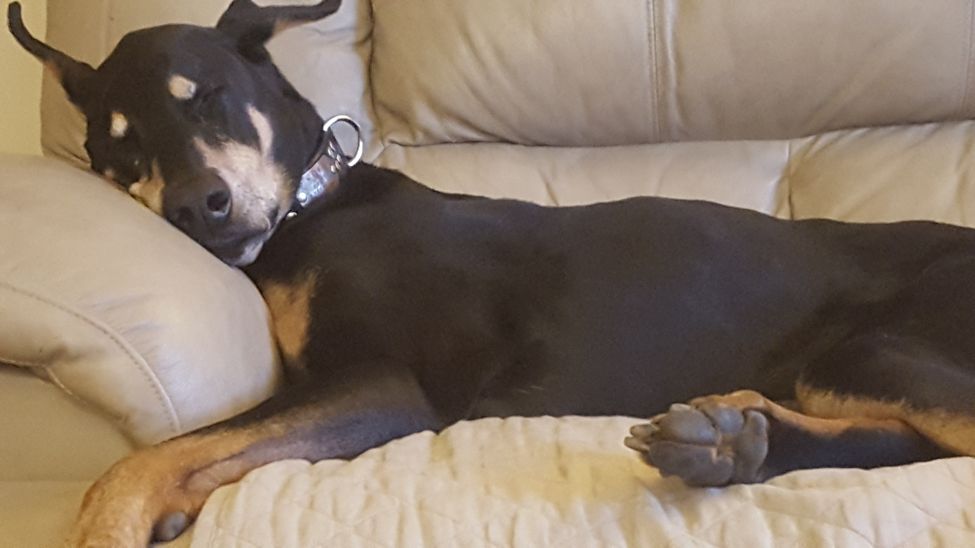 13 Responses to "NITRO…..2 YEARS ON 3 LEGS!"
Suzy Says:
June 18th, 2016 at 4:41 am

Nitro is an amazing dog. But he has truly amazing owners that have made all of this possible. A remarkable family.

hester Says:
June 18th, 2016 at 2:33 am

Super happy 2 year ampuversary wishes from me and Pofi! What a gift two more years has been for your with beautiful Nitro!

midnighter94 Says:
June 18th, 2016 at 1:10 am

Whooo Hooo! Hoppy 2 Year Ampuversary Nitro!!! I'm so happy that you are here to celebrate!!!
I'm looking forward to finally getting to actually meeting, too!
<3 Donna & Murphy

juliedarling Says:
June 17th, 2016 at 11:35 pm

Treasure every moment as you are doing and know that you deserve it. So happy to hear that Nitro is doing so well! Such great news!

xoxo
Julie and Spirit Buddy

benny55 Says:
June 17th, 2016 at 5:12 pm

Sooooo much to celebrate!!

OMD!!! HAPPY TWOOOOOOO YEAR AMPUVERSARY! 🙂

YAAAAAAAAAY FOR NO DIAPERS!! 🙂

YAAAAAAAAAY FOR FEELING GREAT AND LIVING LIFE TO THE FULLEST!!

YAAAAAAAAAY FOR SOME OF THE MOST PRICELESS PICTURES EVER!

Paula, do not EVER, EVER, EVER, EVER, EVER, EVER, EVER, EVER, EVER, EVER, EVER, EVER spend one single sece feeling "guilt".! If we didn't have stories of hope and inspiration like Nitro's, none of us would ever have even take this journey. None of us would never have gotten precious extended time! So thank you Paula and Nitro!!!!!!!!!!!!!!!!!!

Yes, it's hard to think that sweet Angelic mug would like to tumble with dogs!

Great poctures! Great victory! Keep em all coming 🙂 🙂

Lots and lots of love…and cake and ice cream!

Sally and Alumni Happy Hannah and Merry Myrtle and Frankie too!

PS…That Kodi….CUTENESS!!

Also, don't k ow if it would be helpful at all for Storm. But maybe you could hop over to thread and let them know what the supplements are Nitro is on for kidney.

mom2shelby Says:
June 17th, 2016 at 3:59 pm

YAY! YAY! YAY!!!! You are a true Warrior Nitro and I am SO glad to know you both. You have handled this journey with SO much inspiration and motivation!!! I cannot believe it has been two years … this is such a great accomplishment. I am so happy for you. And those ears!!! Love that face and those ears…. way to go! Keep rocking it! XOXO
Alison with the Spirit of Shelby in her heart (and little jasper too)

jerry Says:
June 17th, 2016 at 1:55 pm

WOOOOHOO!!! Now THIS is a way to kick off the weekend! HOPPY TWO YEARS!!!!!

Oh my gosh Paula how time flies. We are thrilled beyond anything for you, Nitro, Kodi and the pack. This is pure joy to see how far you've come, and we know it hasn't been easy, not at all. But you DID IT!!

And awesome news about his kidneys. We'd love to hear more about how that was handled, so that in the future we can point others to how you got them healthy again. Would especially love to hear about the supplement(s).

As for Nitro and other dogs….oh, we can totally relate. Ask anyone who's met Wyatt! xoxo

linda8115 Says:
June 17th, 2016 at 1:49 pm

NITRO! Congratulations beautiful boy! You offer so much hope and inspiration here! I'm so happy for you and your pawsome family and I'm absolutely thrilled I got the opportunity to meet you in person sweet boy along with your wonderful Mom and Dad. Keep showing us how it's done!
Much Love, Linda, Riley & Spirits Mighty Max & Ollie

Michelle Says:
June 17th, 2016 at 11:05 am

Hoppy Ampuversary Nitro. You have kicked major butt. I am so glad you are doing better. I am hoping to get to meet your mom at the puppy up walk. Still waiting on work to let me know 🙁

Have lots of treats and fun. A huge milestone 🙂

xoxxoox
Michelle & Angel Sassy

otisandtess Says:
June 17th, 2016 at 11:00 am

Congrats on 2 years! I think that officially makes Nitro a miracle dog. We'll miss meeting him in Wheaton, but miracle dogs can pretty much do what they want – I'm sure he will be quite happy on that sofa while you make the drive to Wheaton!