21 Jan 2017
UPDATE ON NITRO
Author: dobemom | Filed under:
Uncategorized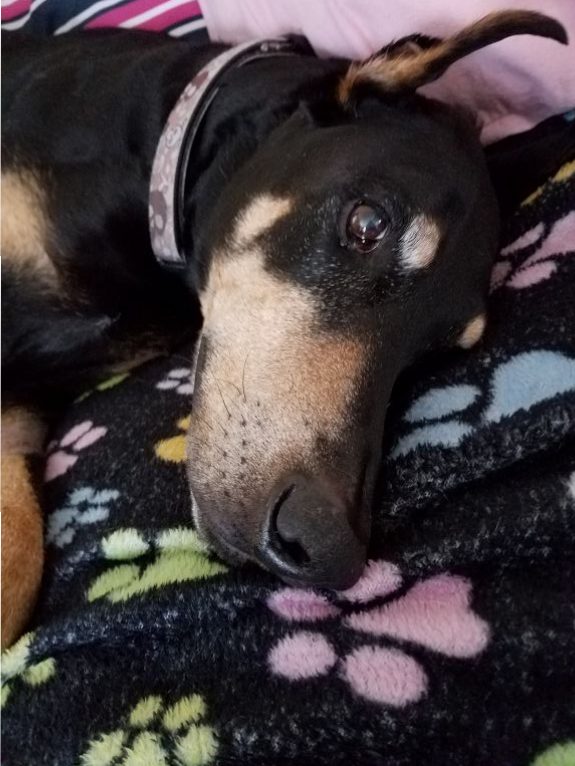 Glad this week is over! The last 4 days were spent taking both dogs to various appointments – I'm not a soccer mom, I'm a vet mom!
On Wednesday, Nitro saw Dr. Patty for his chiro adjustment and acupuncture. She added 2 new supplements for kidney support – Arginex and Renatrophin PMG, both by Standard Process. And she tweaked the acupuncture for more emphasis on the kidneys.
Then he spent all day Thursday and Friday getting IV fluids to flush out the kidneys, hopefully lowering his BUN and CREAT levels. I'd recently found a t-shirt that says "LET YOUR FAITH BE GREATER THAN YOUR FEAR"; that became my mantra on Friday, repeating the phrase over and over in my head, hundreds of times. The levels remained pretty much the same, but by the end of my conversation with my vet, oddly enough, I was totally calm. Earlier in the week I was a basket case – just ask Michelle, who'd had several conversations with me. She even pulled out the big guns in chat one night and had Sally pop in for a pep talk. And Sally hardly EVER comes in to chat. So for me to be totally calm after the trying week is nothing short of miraculous.
In summary:  1. Nitro's kidney levels are not what we'd like to see, but his ISN'T ACTING SICK! In fact, if we weren't monitoring them because of his NSAID's, we probably wouldn't even suspect they were high. 2. He has been off the Carprofen (NSAID)  a week tomorrow, and his mobility is good; the Adequan injections appear to be working. 3. He is on 3 holistic kidney supplements that I'm hopeful will help. 4. The last several days his appetite has been very decreased, but last night when I got home from work, he ate! And if needed, my vet will give him an appetite stimulant.
So that is his story so far. Kodi also has a story, but I will save that for next week's post when I have more information. Thank you Tripawd family, for your guidance and love. For now, there is peace at the Ehlers' ranch.
7 Responses to "UPDATE ON NITRO"