25 Apr 2018
9 Months an Angel
Author: dobemom | Filed under:
Uncategorized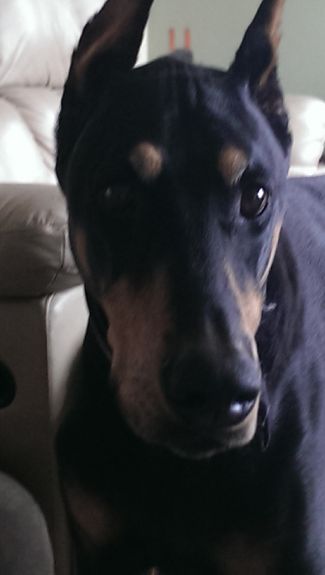 9 months ago today we said one of our hardest good-byes ever…9 months ago today my heart shattered into a million pieces…9 months ago today a beautiful, gentle soul went to heaven.
It still seems surreal that Nitro is gone; sometimes it feels like he was never really here, but just a dream. I think of him every day, several times a day. I still cry when I watch his tribute video. I miss his goofiness, and his Velcro personality; I miss his beautiful, magnificent presence. I miss him following me EVERYWHERE.
Spring has finally arrived in Wisconsin, after a record-breaking snowfall 2 weeks ago. Nitro would have loved both of these things; he loved romping around in the snow, dropping his ball in front of the shovel, only to snatch it away when I went to grab it. He LOVED beautiful sunny days where he would be out in his yard for hours, barking at the neighbors,  watching the birds and squirrels, basking in the warmth.
It is  a very different atmosphere here these days. Grizzly continues to bring us joy, with his wild, puppy antics. I've never seen a dog so full of happiness and love like he is. He is the definition of joie de vivre – exuberant enjoyment of life. As he is a little too full of life for brother Kodi, we've been making friends with other, younger, Westies; their playdates are full of fun and laughter.
So while we mourn the loss of our magnificent Warrior, we move forward – for what else can we do? I hope Nitro is smiling down on us from Heaven, grinning from ear-to-ear as we move thru life with the Tiny Devil he sent our way. Thank you baby, and always remember: "Be good, mama loves you"
11 Responses to "9 Months an Angel"