17 Jun 2018
4 Years Ago Today…..
Author: dobemom | Filed under:
Uncategorized
4 years ago today we began the journey of a lifetime….
I'll never forget the terror, heartbreak and stress I felt when we began this journey. Time has lessened these emotions, but they are forever burned into my memory. I think it's good we had no idea what we were up against;  if we had, I don't know if I would've had the courage to proceed. Ignorance is bliss it seems.
As it turned out, the agonizing decision to go forward  with the amputation was the least stressful of all that lie ahead. Again, I'm glad we didn't know what was in store for us. Ignorance IS bliss. I was terrified he wouldn't make it out of surgery….I was almost afraid  he WOULD. That statement won't win me any mother-of-the-year awards, but a part of me felt that way. I was so scared to be bringing a 3-legged dog home….how would we manage??? When we went to pick him up the next night, I was almost numb with terror to get that fist glimpse of him when they brought him to us.  I dropped to my knees as he came hopping down that hall, tears running down my face , amazed that he could walk. He was the most beautiful site! I fell in love a thousand times over in that short instant, and we never looked back.
I didn't realize it at the time, but a WARRIOR was standing before me…..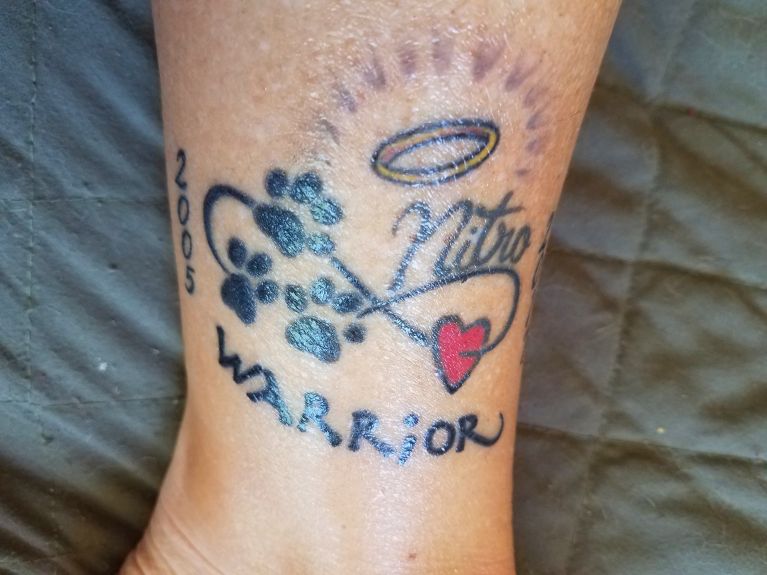 For anyone out there who is considering, or has just begun, this journey I leave you with this…this may be one of the hardest things you'll ever have to go through, but it may also be one of the most rewarding things you will ever do. Because my dog got cancer, my life has changed forever. I have experienced a love like I never knew could exist, I've seen courage like I never dreamed existed. And I met people who were in the same boat as us, and I now  have forever friends because of it.
Peace and love from the Ehlers' ranch
8 Responses to "4 Years Ago Today….."