25 Jul 2018
Nitro's One Year Angelversary
Author: dobemom | Filed under:
Uncategorized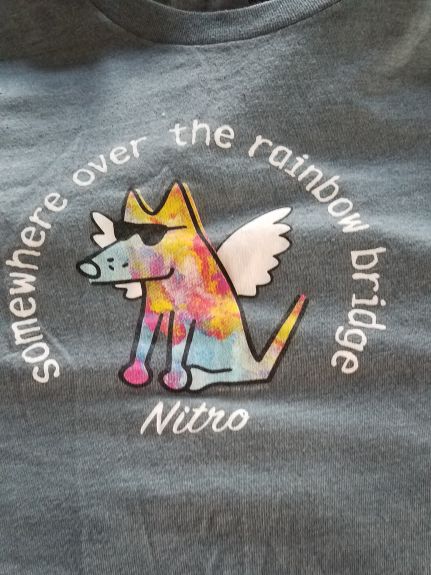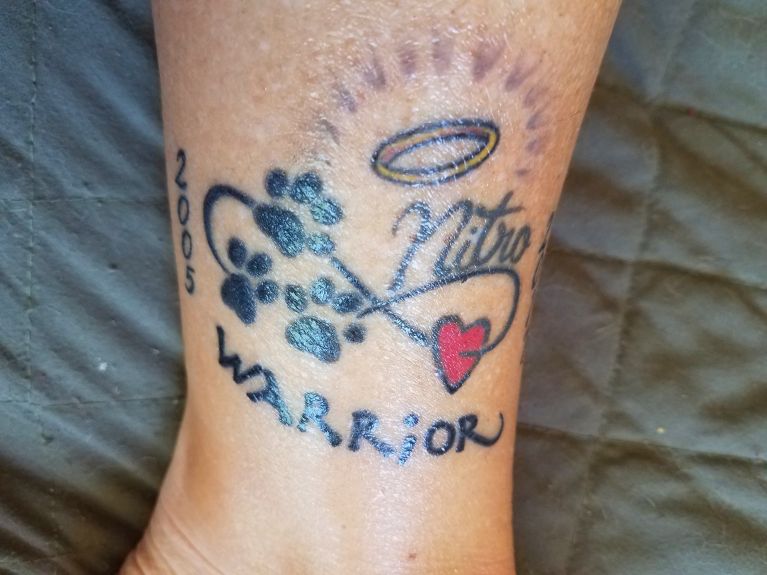 So here we are, at the dreaded one year angelversary….
It seems like just yesterday he was still with us; and at the same time it feels like he's been gone forever. As I write this, it's the weekend before the big day. I can't help but remember where we were a year ago at this time. His mobility was so limited that John had to come home from work both days to help the sitter maneuver him outside. If you recall, we had scheduled, and then cancelled two "appointments" by now. And the "home visit" was looming for the coming Tuesday. His appetite was almost non-existent as well, so we knew his time was drawing near. I could almost argue that we'd waited too long, if not for the gloriously wonderful day that Monday would be. He rallied for one last beautiful day for me – his "Aunt Laurie" stopped over after work to see him, and he was moving about the yard un-assisted, and also ate like he hadn't in days. I remember once again pondering cancelling "the appointment".  It amazes me, looking back at that time, that I was able to stay even somewhat sane. I don't know how I accomplished that, other than that I was  on auto-pilot, one foot in front of the other, dazed.
They say time heals all wounds…I say time "lessens" the wounds. My heart will never be healed from losing him. I still think of him dozens of times every day, from morning to night. I cry less, I ache less, but I mourn him as deeply as I did a year ago. When I think of his goofiness, his smile and his hugs, it can still bring me to my knees. I try to remember the good times, but seem doomed to remember the bad. As I've said before, his entire life seems to be measured by those last 3 years. The early years are a blur, and if I didn't have pictures of them, I'd say they never happened. But, have pictures, I do….
But our life is not all grief and sad memories. Nitro saw to that when he sent a tiny white devil our way. Grizzly is so full of life and love, fun and laughter – all the while trying my patience and tormenting brother Kodi. I could not have asked for a better diversion for the loss of my heart dog. All of my dogs have had personality, but this little clown goes above and beyond. It's  impossible to be sad with his ridiculous antics. And the love he has for me! If there is such a thing as dog reincarnation, then Nitro has surely come back as a tiny white devil.
Kodi continues to do well, especially for a senior dog. He's 14 years old now, dealing with Cushing's Disease, arthritis, and some hearing loss. With the way Grizz harasses him, I wouldn't be surprised if he packed his bags and left home. He acts all put-out, but maybe he secretly enjoys the interaction. "Enjoys" might be too strong of a word, but I think Grizzy is keeping him young, and engaged. I think he's keeping all of us young and engaged – without him, I'd hate to think of how lifeless and listless we'd be.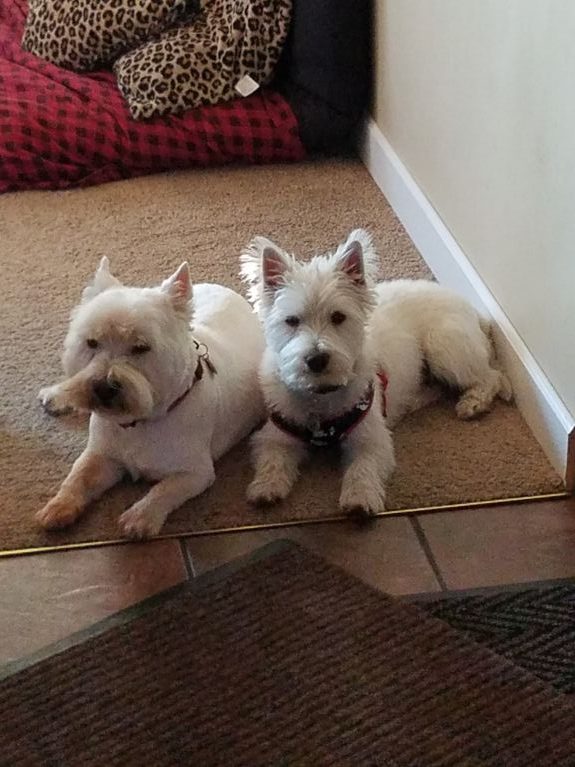 So far this summer I haven't seen any cardinals – I've heard them, but haven't seen them. I'm holding out hope I will as the angelversary draws near. I'm also hoping to see his banner on this site – I haven't seen it in so long, and I'm on here a lot lately.  He doesn't send me a lot of signs, but every once in a while I'll see something that I know is from him.
The journey nobody wants to take has brought us to this place in our lives.  I couldn't imagine a life without my Tripawd Family! You threw me a lifeline when I was drowning, comforted and guided me. I'm the person I am today because of you….love you all! Thanks for always being there when I needed you. Wishing you peace and love from the Ehlers' ranch…..and as always, for you, Nitro, "Be good, Mama loves you"!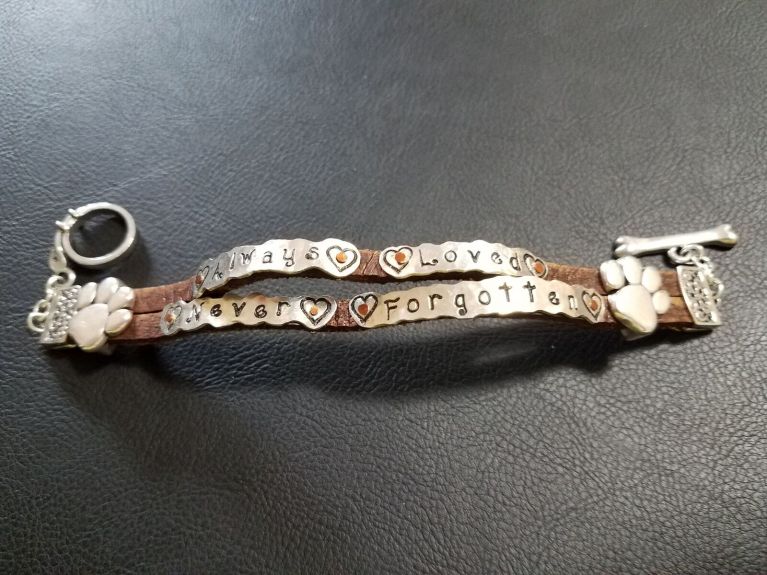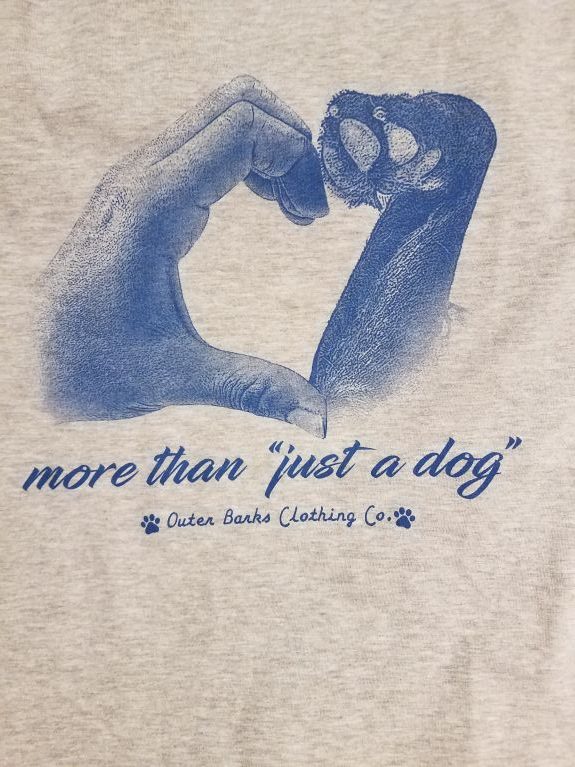 ***EVERY ONCE IN A WHILE A DOG ENTERS YOUR LIFE, AND CHANGES EVERYTHING***
11 Responses to "Nitro's One Year Angelversary"
Super Stu! Says:
August 1st, 2018 at 4:55 pm

Paula, as always, my heart goes out to you! You have put into words what we all feel and fear the worst… the feeling of great loss in Memory of our lost Treasures! Our furkids are just that and our feeling of deep grief remains when we lose our babies! The 'outward' hurt gets lessened, but our hearts will always feel the grief and loss!
Nitro handed you a Prince in disguise when he led you to Grizzly, he has the character of a Warrior and the look of a King, just like his brother Kodi. I love his Senior Sparkle!
The bracelets are gorgeous by the way, an excellent design, Rene did a fantastic job!
Much love and many hugs to you
Petra, Super Stu, Spitfire Spikey, Chester Afield, Content Miss Lily and always Talking Ted xxxxxxx

Rocky's dad Says:
July 27th, 2018 at 8:34 pm

Everything you wrote resonated. But, and I think we've both commented on this before, the part about time really resonates. It makes no sense, and yet it really does feel like yesterday and a million years ago all at once. Wishing you peace.

Karma Says:
July 26th, 2018 at 6:00 am

Lovely update Paula. Nitro was so loved and still is. And I agree that little TD was a good helper for your heart. We love you.
Karma and the gang

benny55 Says:
July 26th, 2018 at 4:00 am

And btw, I'm saving watching the video for later. But I do kerp coming back to look zt these great pictures.
Yes, Nitro taught Grizz hos to properly stretch out on the couch. Mirror image 😎

hester Says:
July 26th, 2018 at 1:12 am

"Brings me to my knees" – I know and understand, Paula. And I know it was just yesterday he was here and also at the same time impossibly, inconceivably long ago. But Nitro was not just those three years or the tough times in the final days. He is the sum of all those happy puppy times, all the hugs, ball chasing, silliness and sweetness. And he did send you Grizzly because he has a sense of humor… He lives on in that tiny devil, our memories of his strength and spirit and in your heart.

Lisa

benny55 Says:
July 25th, 2018 at 10:56 pm

Oh Paula, dear sweet Paul. Lots of tears falling from all of us today. We KNOW how ,much love you and Nitro have for each other. And yes, the wound lessens but never goes away. Sometimes it's jist a few tears that show up with a muffled cry as you try and keep the sadness at bay. And sometimes it's a full blown sob session when you least expect it. Mercifully though, they do come further apart.

And then we have Grizz to turn those tears jnto LOL tears!! Nitro knew EXACTLY what he was doing by picking Grizz for you❤ And you "tried" to fight it!! Oh ues you did! But you also TRUSTED all the signs that Nitro was sending youm that this is HIS choice and you must obey the Warrior!!😎

I loooooved seeing the baby pics of Nitro! And there is sweet Kodi allowing Nitro to do his puppy playing all over him……..just like he tolerates with the Grizz now!

You have paid tribute to him so beautifully today. Your tattoo still takes my breath away, as does his banner. And oh gosh, love that shirt you got at the beach. Perfect❤

At the Virginia vacay, I don't remember if you were inside when several of us saw Cardinals at my house during the ten seconds we were oitside before it started raining. I loved he showed up like that!!

And Paula, WE ARE BETTER HUMAM BEINGS BECAUSE NITRO BROUGHT YOU INTO OUR LIVES!!! I hope you see from these replies how much you mean to us, how much we love you, how much you have touched each of us in so many ways.

The engraving on the bracelet sums it all up. And you and Nitro will be engraved on iur hearts furever❤

With love

Sally and Alumni Happy Hannah and Merry Myrtle and Frankie too!

jerry Says:
July 25th, 2018 at 9:35 pm

The dreaded day is here, and my heart hurts for you. But I am also so proud too, you have absolutely managed to Be More Dog through this milestone by acknowledging your heartache while not forgetting all the good times you had together. No doubt Nitro is proud too.

You are right: the ache never goes away. We never get that one special dog back. But the others who come into our lives are special in their own way, full of unexpected surprises and lessons that make us better people. Nitro has got to be proud of you for giving Grizz a chance and opening your heart to another canine. You are the human being he was sent to teach so many lessons, and you've passed them all with flying colors.

Thank you Paula, for being here in the community through the good times and heartache, for helping others even when your own heart was shattered. It speaks volumes about what a warrior you truly are.

We love you tons!

mom2shelby Says:
July 25th, 2018 at 4:50 pm

(HUGS))))))) Baby Nitro photos!!! The best! Simply the best. It is such a gift to get a glimpse into his life before the "three years". I feel the same … the life before C seems like a blur.

I loved this blog … you put into words so much of what many of us feel / felt on our first angelversary and still do, to this day.

I am not on the site as much but I knew there would be a post today so I had to come see.

I love that he sent you TD. I love that TD loves and adores and keeps you on your toes (probably much to Kodi's chagrin).

I, too, am glad we are in each other's lives as family that we chose. Our bond, much like the bond with our angels, is for furever.

Hugs and love!!!!

Alison with Spirit Shelby and Little Jasper Lily

PS – I think you handled those last several months with so much grace, calm, strength and compassion. I was in awe of your strength then and still am. XO

linda8115 Says:
July 25th, 2018 at 3:45 pm

Honoring both Nitro and you too Paula on this hard day. Like Donna I love you all as the sisters I never had and can't imagine you all not being in my life. I love your boy and think of him every time I think of you. Two eternally entwined "souls". Love you!

midnighter94 Says:
July 25th, 2018 at 3:04 pm

I was watching for this, but I'm still crying … I love you like a sister. I couldn't imagine what this journey would have been like without you, and the rest of our gang <3
Hugs to you today
Donna & Glenn
Max & Cooper
Angels Murphy & Cassie

Michelle Says:
July 25th, 2018 at 2:59 pm

Happy Angelversary Nitro.

Paula, I know these firsts are always the hardest and this is one of those. You shared from your heart. Nitro is still guiding you and loving you. OH and yes he is guiding TD too. He is laughing at all of his antics and saying yes way to keep mom laughing and loving.

Your bracelet says it all and thank you for designing it in memory of our babies. Also the shirt that we bought at the Outer Barks shop. <3 <3 <3

Thinking of you and the boys today.

xoxxoox
Michelle & Angel Sassy